Description of Business
Maintenance of Manufacturing Equipment
We perform maintenance on equipment for the processing of semiconductor products.
The inside of such equipment necessarily becomes dirty while processing the products. Because the equipment cannot minutely clean itself automatically, an engineer must dismantle each piece of equipment by hand and clean periodically.
First-rate semiconductor factories in Japan have a great deal of equipment in operation. We provide careful maintenance 24 hours a day, 365 days a year.
Since semiconductor equipment is very complicated, keeping such equipment operating properly requires engineers who possess expertise in areas such as machinery and chemicals, as well as high technical skills.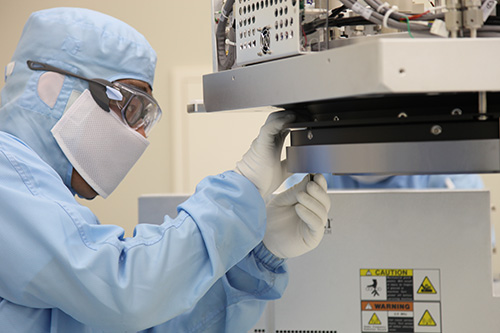 Assembly and Adjustment of Manufacturing Equipment
We provide technical support services such as carrying equipments in a factory as well as installing, starting up, and modifying equipment.
Where semiconductors are produced, in order to incorporate new technologies into manufacturing, it is common for production lines to be renovated, for facilities to be relocated, and for new factories to be built.
To ensure that the equipment, in its new environment, operates properly and can produce semiconductors, we relocate equipment and/or assemble equipment from scratch on site.
To assemble equipment that must have the precision to produce circuits on the order of a few microns, high levels of skill and knowledge are required.
Manufacturing sites both in Japan and abroad regard our skills as necessary.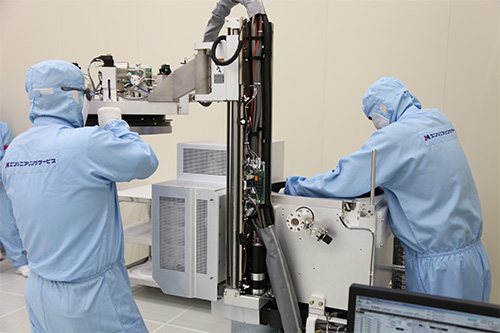 Quickly Resolving Problems in Products or Equipment
Semiconductor-manufacturing plants produce large quantities of products on a nonstop basis, 24 hours a day, 365 days a year. For that reason, any problems that may occur in the products or in the manufacturing equipment must be resolved quickly.
If something goes wrong with products or equipment, our engineers analyze a variety of information concerning the products and equipment, track down the cause of the problem, and take measures to correct the problem.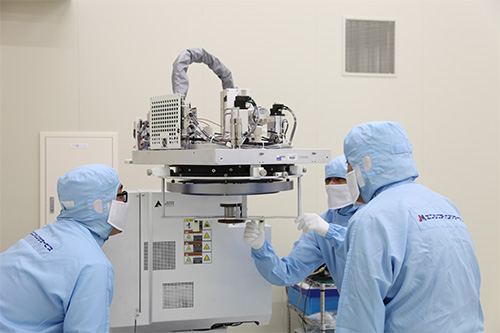 Managing the Cleanroom Environment
Semiconductors are manufactured in the special environment of a cleanroom. We perform cleaning, etc., so that cleanrooms are maintained and managed free of dust and garbage.